Chinese cuisine is known for its rich taste and wide variety of ingredients. However, not all Chinese dishes are difficult to prepare at home. There are several dishes that are very easy to practice, even for beginners.
In this article, we will introduce you to five of the easiest Chinese dishes you can try in your own kitchen. Prepare the following ingredients and follow the simple instructions to enjoy delicious Chinese food.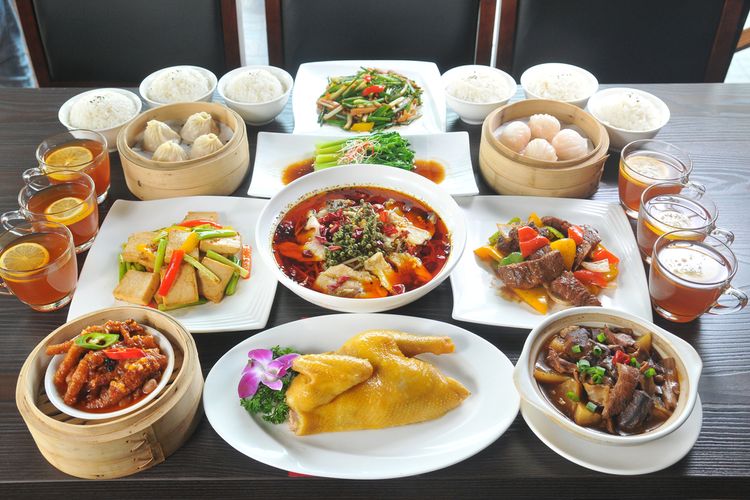 Chicken Porridge
Chicken porridge is one of the most popular Chinese dishes and it is very easy to prepare. You just need to cook the rice in chicken stock until soft and then add the pre-cooked and thinly sliced chicken.
You can add sliced green onions, ginger, soy sauce, and a little sesame oil to give the porridge a distinct taste. Serve with sliced boiled eggs, soy sauce, and fried onions for delicious results.
Sauté Vegetables
Stir-fried vegetables is a quick and easy Chinese dish. Choose your favorite vegetables, such as broccoli, carrots, green beans, bell peppers and mushrooms, then cut them into thin slices. Heat some vegetable oil in a pan, add chopped garlic and sauté until fragrant.
Add vegetables and stir-fry quickly until cooked but still crunchy. For added flavor, add a little soy sauce, sesame oil, and pepper to taste. This dish can be served as a side dish with white rice or noodles.
Fried spring rolls
Fried spring rolls are a Chinese dish that is often served as a snack or appetizer. The filling for spring rolls can be adjusted to your preference, but usually consists of a mixture of vegetables, minced meat and spices.
You can buy pre-made lumpia wrappers at a nearby store or make your own. Place the filling in the middle of the spring roll skin, fold both sides and roll tightly. Heat oil in a pan and fry spring rolls until brown. Serve fried spring rolls with spicy sweet sauce or soy sauce.
Fried Chicken with Sweet Sauce
Fried chicken with sweet sauce is a popular dish that is very easy to prepare at home. Cut the chicken into small pieces, then season with a little salt, pepper and cornstarch.
Fry the chicken in hot oil until brown and cooked. Meanwhile, in a separate skillet, sauté the garlic, onions and peppers until wilted. Add tomato sauce, sweet chili sauce and a little soy sauce.
Put the fried chicken pieces into the sauce and stir until smooth. Serve fried chicken with sweet sauce with white rice or noodles.
Fried Dumplings
Fried dumplings are an easy Chinese dish that are great as a snack or appetizer. You can buy pre-made dumpling skins at the supermarket or make your own. Dumpling filling generally consists of minced meat, vegetables, and seasonings.
Place a pinch of filling in the center of the dumpling skin, fold it into a triangle, and seal it with a little water. Heat the oil in a pan and fry the dumplings until golden. Serve fried dumplings with chili sauce or peanut sauce.
Conclusion:
Chinese food is not always complicated to prepare at home. With simple ingredients and easy-to-follow instructions, you can try five delicious and popular Chinese dishes. Chicken congee, stir-fried vegetables, fried spring rolls, fried chicken in sweet sauce, and fried dumplings are the easiest Chinese options to cook in your own kitchen. Try these recipes and enjoy the authentic taste of Chinese food at home!