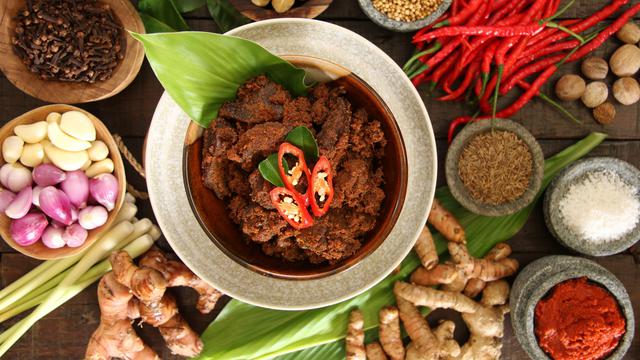 Beef dishes are choice for many Indonesian families when they want eat meat but are bored with chicken. Besides having good health and Tasty benefits when consumed properly, cooked beef does have a good taste.
Moreover, beef can be cooked into a variety of delicious dishes. Almost every region in Indonesia, has a special dish that uses beef as raw material. Because of this, beef recipes are much sought after by the public.
Beef Rendang
There are several popular beef dishes in the tongue of the Indonesian people. Which is often consumed by many people, of course rendang. This dish from Minangkabau, West Sumatra, is even well known internationally.
But actually, there are several other Indonesian specialties that are no less delicious and tasty than rendang, which is also made with beef. Here is a list along with the recipe and how to make it:
Composition:
1 kg of beef thigh
2500 ml of coconut milk from 3 grated old coconuts
3 stalks of lemongrass crushed
1 sheet of turmeric leaves torn
5 bay leaves
Ground spices:
250 gr curly red chili and cayenne
250 gr shallots
8 cloves of garlic
1 tsp cumin
1 tsp fennel
1 grain of nutmeg
5 cloves
3 candlenuts
1 tsp pepper
4 tbsp coriander
2 thumbs of ginger
2 galangal thumbs
2 thumbs of turmeric
Salt and sugar to taste
How to make:
Cut the meat approximately 1 kg into 20 pieces. Grind the spices until smooth.
Put coconut milk in a pan, add lemon grass, turmeric leaves, bay leaves, and ground spices. Cook over the fire while being overwritten with coconut milk until it boils for about 15 minutes.
Add the meat, stir until it boils, reduce the heat. Add salt and sugar to taste. Cook until coconut milk thickens, stir so it doesn't burn.
Continue to cook over low heat until the rendang is dry and oily.
Soy Sauce Cooked Meat
Composition:
750 g beef
5 cloves of red onion thinly sliced
3 cloves garlic thinly sliced
10 whole bird's eye chilies
3 large red chilies cut into pieces
5 large green chilies cut into pieces
3 bay leaves
1 stalk of lemongrass
1 galangal thumb
1 thumb ginger
Meat cooking water
Sweet soy sauce to taste
Salt sugar and powder broth
How to make:
Boil the meat, drain. Then cut into pieces, do not throw away the cooking water
Saute shallots, bay leaves, galangal, ginger until fragrant
Add the chilies, lemon grass stalks and beef to a boil. Add salt and sugar then adjust the taste.
Let the spices infuse for about 5-10 minutes
Remove and serve.
Saute Onion Meat
Composition:
100 grams of beef, thinly sliced
1 onion, sliced long
1 segment of ginger, crushed
1 galangal segment, crushed
1 spring onion, roughly chopped
3 red chilies, sliced oblique
1 tomato, halved
1 tbsp fried shallots
Spice:
3 cloves of garlic, crushed
1 tbsp oyster sauce
1 tbsp sesame oil
Salt to taste
Flavoring, to taste
¼ tsp ground pepper
How to make:
Boil beef until cooked and tender. Drain well.
Heat some oil, saute garlic until fragrant. Add the onions to the garlic stir-fry, sauté until half cooked.
Add sesame oil, oyster sauce, salt, seasoning and ground pepper.
Add the beef to the seasoning stir fry, stir well.
Add green onions, red chilies and tomatoes and fried shallots.
Stir all ingredients and cook until cooked.
Correct the taste, remove and serve while still warm.
Beef Teriyaki
Composition:
300 gr beef, wash, thin fillets set aside.
1 green bell pepper, sliced long.
1 clove of onion, sliced.
2 tbsp butter
Enough water
Sugar salt
Marinade:
4 tbsp teriyaki sauce
3 tbsp oyster sauce
2 tbsp chili sauce
1 tbsp tomato sauce
3 tbsp sweet soy sauce
Ground spices:
5 cloves of garlic
1 segment of ginger
1 tsp pepper
How to cook:
Soak the meat with the marinade for about 1 hour, set aside.
Saute ground spices with butter until fragrant.
Enter the meat add salt, sugar to taste add water.
Cook until the meat is cooked and the spices are absorbed.
Just before serving, add the onions and peppers. Taste test and serve.