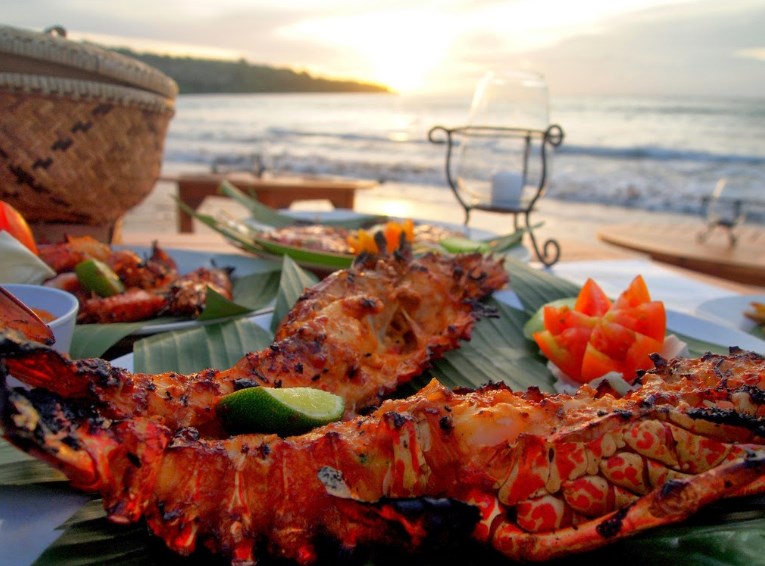 Vacation to Bali, besides visiting interesting attractions, you will definitely find a place to eat delicious. The question is, where is the favorite place to eat in Bali cheap, tasty and suitable for Indonesian tongue?
If you are also looking for a favorite place to eat in Bali while on vacation. So this article must be read in full, because it will really help you in knowing and looking for favorite places to eat in Bali.
On the island of Bali there are many fine dining places, from fine restaurants, unique dining venues to simple food stalls. I'm sure everyone would want to try Balinese culinary while on holiday on the island of Bali. Of course, with the price of food affordable and has its own taste.
Cafe Seafood Bakar Jimbaran
Unlike the famous Kuta Bali beach with sunset views, Jimbaran beach is famous for its sunset views while eating at grilled seafood restaurants along the beach.
Jimbaran grilled seafood menu is offered such as grilled fish, shrimp, squid, lobster served with white rice, red chili sauce, and plecing kale. The price of Jimbaran grilled seafood varies depending on the weight of the food you ordered.
While enjoying the beautiful views of the beach, tourists visiting will be entertained with Balinese music and dances. This makes Jimbaran seafood cafe one of the restaurants in Bali that must be visited.
Ubud Matured Chicken Rice Mangku
Most of the Indonesian tourists who vacation to Ubud Bali tourist attractions, during lunch time will stop at the Kedewatan chicken rice shop, Ibu Mangku. Chicken rice food stalls Mangku's motherhood serves Balinese mixed rice which is definitely halal.
The main menu of Kedewatan chicken rice stalls Ibu Mangku is, white rice, betutu chicken, sisit chicken, tum ayam, fried chicken and satay wrapped in chicken.
Grand Puncak Sari Kintamani Restaurant
One popular tourist spot on the island of Bali is Kintamani tourist attraction. Kintamani tourist attraction is loved by tourists for holiday destinations because it offers cool air, views of volcanoes and lakes. The best way to see the sights of volcanoes and lakes that tourists like is lunch. One of the restaurants in Kintamani that Indonesian tourists like is Grand Puncak Sari Kintamani Restaurant.
At Grand Puncak Sari Kintamani Restaurant, visitors can enjoy the beautiful view of Mount Batur below which there is an eruption, while enjoying lunch. Grand Puncak Sari Restaurant provides varied buffet menus, at very affordable prices.
Mentari Bedugul Restaurant
Most Indonesian tourists after having finished their vacation to the tourist attraction of Ulu Danu Beratan temple in Bedugul, will stop by for lunch at the Mentari Bedugul restaurant.
Mentari Restaurant, providing buffet food menus. Restaurant visitors will take food directly to suit their individual tastes.
Ayam Betutu Gilimanuk
One of the typical Balinese food menus is Ayam Betutu, to find places to eat in Bali that provide a betutu chicken menu is very easy, one of which is the Ayam Betutu Gilimanuk restaurant.
Ayam Betutu Gilimanuk restaurant has 7 outlets on the island of Bali. The location of the nearest dining place from Kuta tourist spot is on Jalan Raya Tuban No. 2X, Tuban – Kuta. At the Ayam Betutu Gilimanuk restaurant, you can decide for yourself the size of the betutu chicken you want to order. You can order one tail, half a tail, or only a quarter.
Bebek Bengil Ubud
The Bebek Bengil Ubud restaurant is located on Jalan Hanoman – Padang Tegal Ubud. The Bebek Bengil Ubud restaurant serves fried duck as its flagship menu. Equipped with rice, red sambal or raw sambal and urap vegetables. Restaurant visitors can enjoy lunch with views of rice fields.
The prices of food and drinks offered are comparable to the atmosphere and facilities provided and become one of the favorite eating places in Bali that you must visit.